We design each Living Summer School to be unique immersions in the territory. Living Summer Schools are short but intense. They aim at providing participants with practical tools to handle fast pased design sprints with a sense of climate and social urgency.

The LSS is Free for all participants. As an ERASMUS + program, we also guarantee students residing in France, Italy, the Netherlands and Belgium help in covering their travel costs to and from Kortrijk.

Every year we pick and choose educational methodologies that are fit for the topic being dealt with in the summer school. The topics, in turn, emerge from our community's needs and urgent issues of the contemporary world. Methodology and topics are refined year-round through an intertwined process, until their implementation.

The Living Summer School participants are always provided with the opportunity to practise a mixture of soft and hard skills, these include building and making, prototyping, technological experimentation, service design, design thinking, ethnography research, vision making,...

We experiment yearly intending to offer participants tools that would allow them to better tackle complex situations in the future, and develop innovative practices to accommodate the needs of our societies. Participants always gain experience in dealing with human and non-human stakeholder networks, in negotiating priorities within them and in advocating for change.

While participants are welcome to arrange their own housing in nearby hostels or hotels, we would like to encourage co-living as part of the program experience. Living together fosters a sense of community and facilitates the exchange of ideas and experiences among participants.
Throughout the duration of the LSS, participants reside together and share cooking and dining facilities. Their accommodation is situated in Dock 27, a container city repurposed for Kortijk's Sea Scouts. The site comprises a spacious dining hall, a professional kitchen used for meal preparation, a large living hall that extends outdoors through two opening gates, three sleeping quarters, and sanitation facilities with two bathrooms and four showers. The site's proximity to the city's main lake and its location only 15 minutes away from the city center by bicycle.
Each night, participants will have the opportunity to work alongside a chef in preparing meals and setting/clearing the table. After dinner, participants are invited to unwind and enjoy the surroundings of the lake area. We encourage everyone to take advantage of the green outdoors and engage in outdoor activities. However, we kindly request that noise be kept to a minimum between the hours of 12 am to 8 am, so that everyone can enjoy a comfortable night's sleep.
We believe that this well-rounded approach to daily activities provides a balance between structured learning and personal time for reflection and relaxation. Participants can organise their own housing in nearby hostels or hotels, but we would like to encourage co-living.
We want to ensure that all participants have a comfortable and enjoyable experience during our program. If you have any special requests or needs related to your diet, sleep, or any other aspect, please let us know before the start of the program.
We will do our best to accommodate any requests and ensure that everyone's needs are met. Whether you have dietary restrictions, require special accommodations for sleeping, or have any other concerns, we are here to help.
DOCK 27
→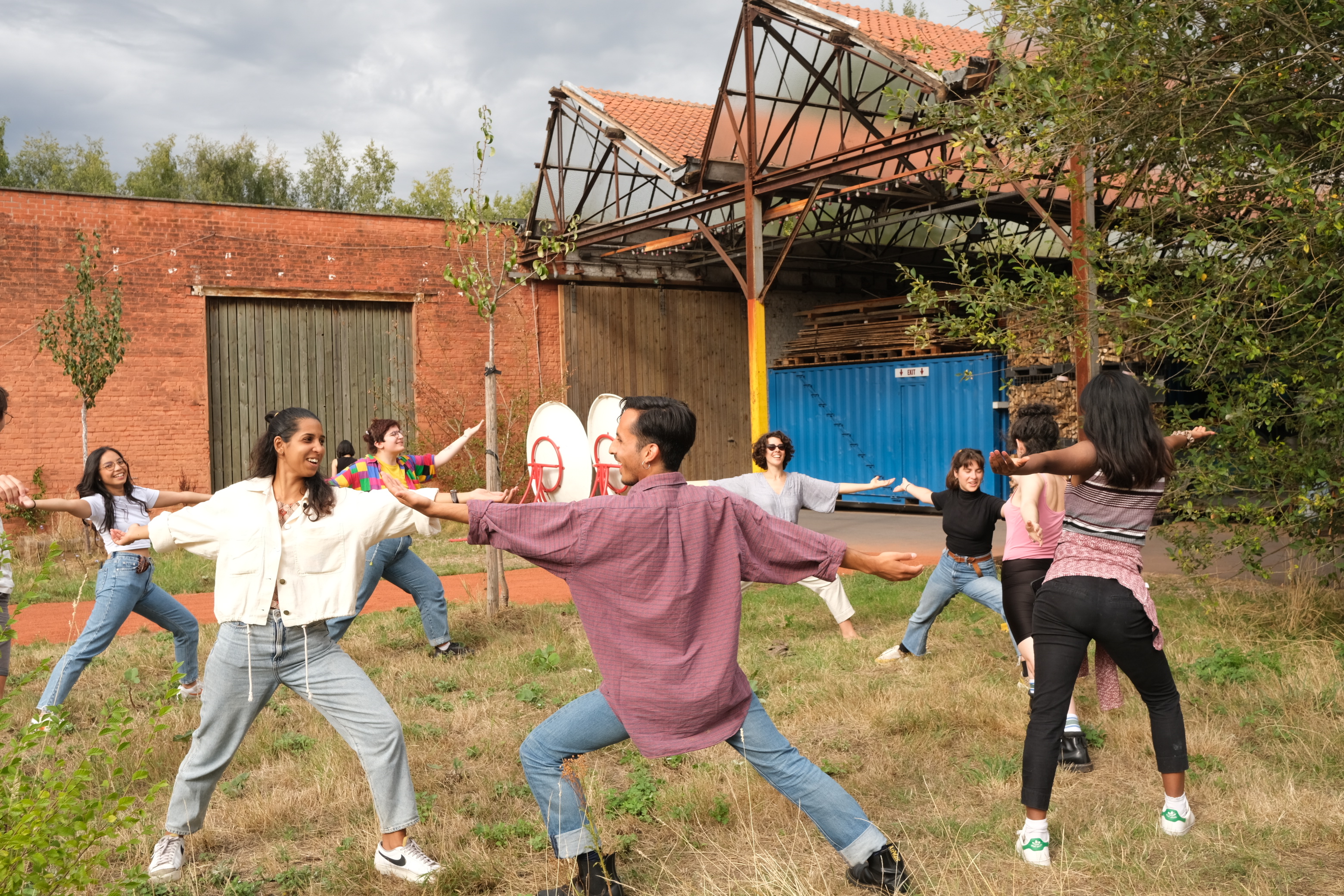 As part of our program, each participant will be provided with a bicycle. Biking will be the primary mode of transportation for all activities and field trips, as we believe it is the best way to explore the territory. Site visits are a very important part of the research process. Participants will have the chance to meet with different organisations and experts.
However, we understand that some heavy materials may require transportation by car. For this reason, we will have one car available to assist with transportation. Also, if you have a medical condition or any other reason that prevents you from biking, you may request transportation by car during the summer school. However, please note that due to limited space, we kindly ask that you notify us in advance if you require car transportation.
We believe that biking is not only an environmentally-friendly way to travel, but it also allows participants to fully immerse themselves in the local culture and surroundings.
We kindly ask that each participant take responsibility for their own bicycle during the summer school program. We trust that you will treat your bike with care and respect, as it will be your primary mode of transportation throughout the program. Please note that in the event of any damage, theft, or loss of your bicycle, you will be responsible for the related costs. We understand that accidents can happen, so we encourage everyone to take precautions and lock their bikes securely when not in use.
Bycicles are rented from:
Fietsencentrum Mobiel
Every year, we invite local experts, policy and decision makers, researchers and creatives to give a series of talks and workshops in relation to the year's theme. The program is carefully spaced to allow for free prototyping and making time, with regular feedback sessions between all the participants and organising team.
We regard every person involved in the summer school as an expert in their own right. We believe that the interaction between individuals from diverse backgrounds, knowledge, skills, and experiences, is where real insights and growth can happen. Our local collaborators hold a wealth of knowledge about their territory and the communities they serve, and we treasure their contributions. We see informal exchanges between peers as not just a formative experience but also as a chance to develop valuable soft skills that can support our participants in tackling the challenges of the future.
Our methodology could be compared to the creation of scaffolding: we firmly believe that in each edition we should provide space for participants and our network to bring forward their interests, experiences and expertise. That's why we build the yearly experience around three pillars that constitute the Living Summer School's main educational interactions:
Lectures and workshops: these constitute the most academic learning opportunities for participants. Every year, we invite international university lecturers and professionals to give lectures on topics and projects that are relevant to the theme. Moreover, we punctuate the school's week with workshops that help the participants be propelled forward in their processes, such as team building, ideation and communication design workshops.
Peer learning and group work: these are the most informal and spontaneous learning opportunities for participants. One constant aspect of our yearly experience is that at the very beginning of the week, we match each participant to a group based on their thematic interests, skills and experience. Every group, then, works together for the entirety of the week. We support moments of sharing throughout the week to encourage peer learning across the whole cohort. Given the cooperative nature of the work at hand, every group has the chance to leverage each member's unique profile, deepen their confidence in international teamwork, and, above all, build long-lasting personal and professional relationships.
"Field trips" and interaction with our local network: these provide the most unique aspect of the summer school's educational experience. Every year we gather and grow our communities and networks of local and regional experts from the non-profit, private and governmental sectors around the year's theme. We then bring these experts to the summer school through various formats and moments throughout the week. The goal of these interactions is for participants to build their initiative as much as possible on the localised and contextualised experience of our network of experts in a co-design process. Two highlights of these interactions are the field trips and the closing event.