What is the Living Summer School?
The Living Summer School (LSS) is a free annual informal education program that brings together young people to lead
multidisciplinary
experiments in territorial innovation in response to the urgent need for swift, effective action to address socioenvironmental issues within realistic social models.
The LSS is an
Erasmus-certified informal training program
and collaborates with a European Consortium of partners to devise its yearly curriculum. It is also a member of the
New European Bauhaus' Transformation of Places
of Learning and of the
LINA Architectural Platform & Community
.
The program is held in Kortrijk, Belgium and through collaboration with local partners, students design and implement sustainable initiatives in the urban and rural areas of Southwest Flanders with the goal of nurturing a
territorial mindset as a catalyst for innovation
.
The program employs collaborative and experiential learning methods to promote a sense of shared responsibility. Every year, research is conducted on multifaceted social and climate challenges faced by local partners, including NGOs, policymakers, and private companies. Participants are then encouraged to work in teams to address these geography-specific challenges in collaboration with local communities and partners. The outcomes of the co-creation process are shared with local decision and policymakers.
Who is it for?

We strongly believe that the planning and transformation of our territories should be an inclusive and multidisciplinary process that transcends existing professional boundaries and constraints. We warmly invite students and professionals from various fields, including architecture, urban planning, design, real estate, graphic design, political studies, geography, history, art, and more, to participate in this experience.
Informal Education


At the LSS, young people from different backgrounds experiment and learn together. The focus on social & environmental themes is essential: we want to actively engage young practitioners to work with this kind of challenge as designers, as entrepreneurs, as social activists, … and to give them the opportunity to see things from different perspectives and practices. Our unique educational approach combines specific use cases with a mix of hands-on competences and lectures tied within a programme that closely follows the structure of a design sprint. It stimulates interaction and cooperation, allowing for very unique insights to emerge.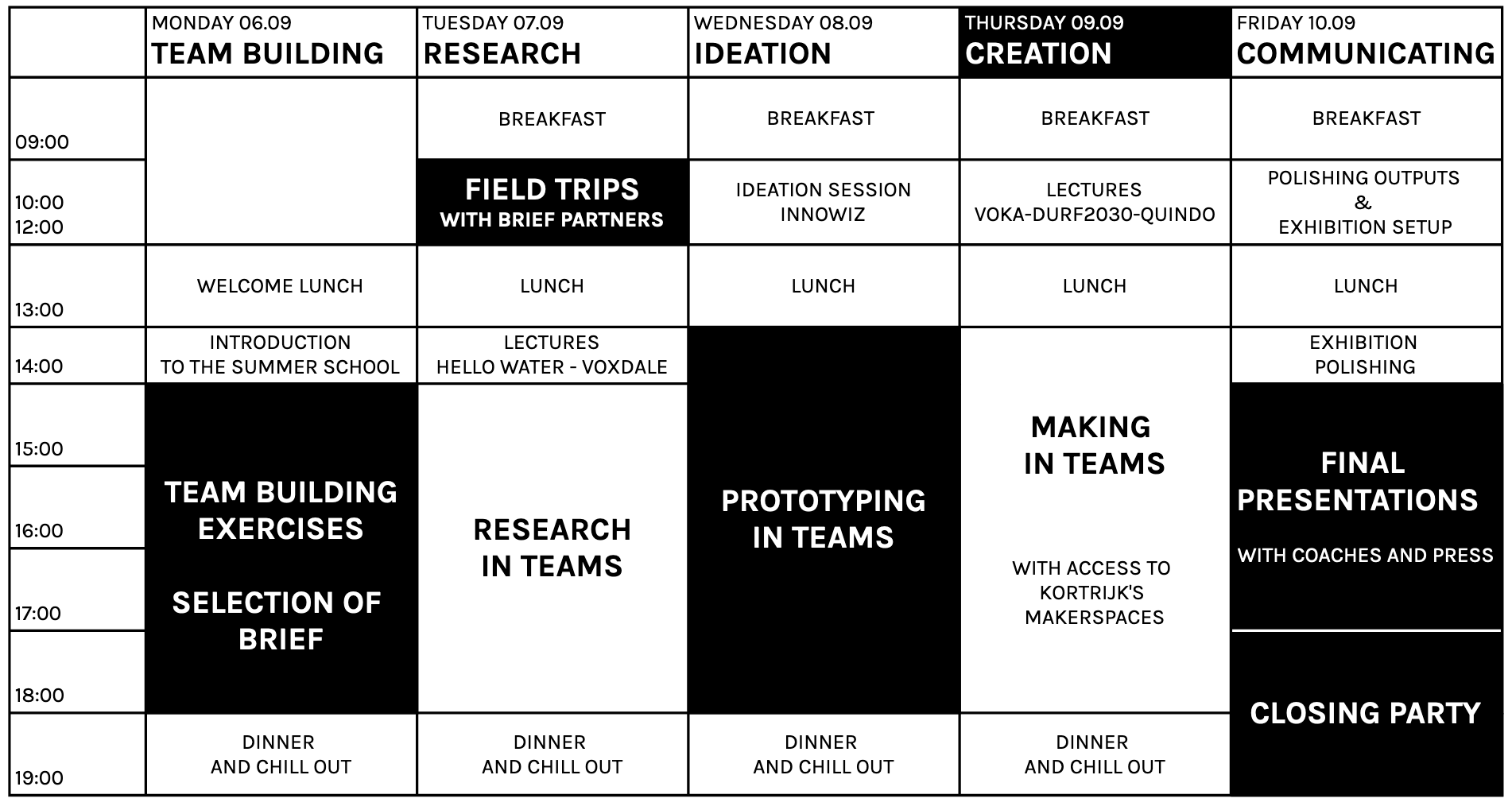 Mentorship, Partnerships & Collaboration

The LSS offers its participants a highly collaborative experience. Students work in
teams
and in close collaboration with
partners
: local experts who co-create with students responses to complex and systematic challenges they are being confronted with. Partners are selected every year to help us create territorial briefs thanks to their first-hand experiences and knowledge.
Students also get
daily lectures
from local and international experts on various topics, as well as
hands-on workshops
to facilitate their creative process.
During the LSS students are are accompanied and mentored by our
resident team
which comprises of experts in art, design, social impact and enterpreneurship as well as
participants from the previous LSS edition.
LSS, through collaboration, focuses on two main takeaways:
Providing participants with soft and hard skills outside academic institutions,
Providing our partners with outside-the-box visions of the future.
Our Team

The project is developed collaboratively by three organizations: Bolwerk, Start@K, and The Eiland Collective. Together, they are committed to addressing the complex social and geographic challenges facing their communities through a combination of creative, entrepreneurial, and design thinking.
The idea of the Living Summer School arose from a collaboration between various parties in the Kortrijk ecosystem. The organising team of the 2022 edition is comprised of:
Learn more about the LSS by listening to Co-founder Elena Falomo present the project during our acceptance speach to the LINA European Architecture Network (Dec 2022):